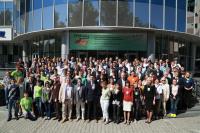 International Conference PFM-2014, Ekaterinburg, Russia
International Conference PFM-2014 was organized by Labfer Ltd and Ural Federal University from July 14 to July 17, 2014 in Ekaterinburg, Russia.
The joint conference covered a wide range of topics related to functional imaging of nanomaterials by various techniques including Scanning Probe Microscopy (Piezoresponse Force Microscopy – PFM, Electrochemical Strain Microscopy – ESM, Kelvin Probe Microscopy – KPM), Scanning Electron Microscopy (SEM), Optical Microscopy (Confocal Microscopy – CM, Scanning Near-Field Optical Microscopy – SNOM, Raman Microscopy – RM).
In the framework of PFM-2014 Conference the International Youth Conference "Functional imaging of nanomaterials", and the exhibition "Nanotechnology equipment" with participants from nine leading Russian and foreign companies were held.
PFM-2014 welcomed 206 participants from 18 countries and 17 cities of Russia.
The Conference witnessed 161 presentations, including 5 plenary, 27 invited, 35 oral presentations, 82 posters, 12 young scientists' short oral and 5 tutorial lectures.